What's the most likely diagnosis?
32 year-old in prior motor vehicle accident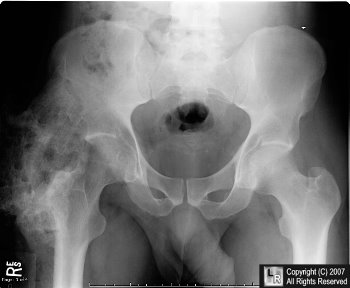 Osteosarcoma
Paget's disease
Healed Fracture
Heterotopic ossification

Answer:

4. Heterotopic ossification
More (Click Discussion Tab)

Heterotopic ossification
General considerations
Defined as the abnormal formation of true bone within extra-skeletal soft tissues

More common in males, especially following spinal cord injury, it is rare in young children

Formerly called myositis ossificans

Strong association exists between HO and spinal cord

or traumatic brain injury

It is also seen in burn patients, following surgery, and following blunt trauma such as horse riders may develop in the adductor muscles of the leg

There is an increased risk for HO in patients with Diffuse Idiopathic Skeletal Hyperostosis (DISH) and Paget's Disease
Pathophysiology
Clinical findings ...