Thymoma
General Considerations
Most common anterior mediastinal mass

Most are solid lymphoepithelial tumors of the thymus, some are cystic

About 1/3 are malignant under 20 and over 40 years of age

Rare in children — most common around 5th or 6th decade

They can be classified into four types which occur in about equal frequency

There are World Health Organization classifications and surgical staging classifications as well
Clinical Findings
Imaging Findings
Oval round or lobulated soft tissue mass, sharply demarcated, usually smaller than teratomas

Superior aspect of anterior mediastinum

Project predominantly to one side or the other

May displace heart and great vessels posteriorly

Normal thymic tissue may be seen as a triangular density in the anterior mediastinum up to 30 years of age at which time fatty involution occurs

A small percentage (5%) may contain curvilinear or amorphous calcification

Absence of fat planes and invasion of adjacent structures favors malignancy

MRI

May be more sensitive to small thymic masses than CT

Hypointense to mediastinal fat on T1

On T2, signal is isointense or hyperintense ro surrounding fat
Differential Diagnosis
Non-Hodgkin's lymphoma can occur in thymus

Thymolipomas are rare, fatty tumors of the thymus that have been associated with
Treatment
Most thymomas are treated surgically

Degree of invasiveness rather than histopathology is best determinant of malignancy versus benignancy
Complications
About 15% of patients with myasthenia gravis have thymomas and about 33-50% of patients with thymomas have myasthenia

Thymomas are associated with leukemia
Prognosis
Surgical evaluation of encapsulation or invasion is better indicator of prognosis than actual histology

In patients with myasthenia, about 50% improve following removal of the thymoma

For those with invasive thymoma, 15 year survival is 12.5%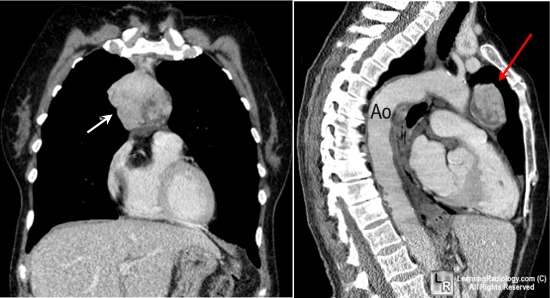 Thymoma. Contrast-enhanced coronal (left) and sagittal (right) reformatted CT images of the thorax demonstrate a lobulated mass in the anterior mediastinum (white and red arrows) with mixed attenuation consistent with a thymoma. The aorta is labeled Ao.
For more information, click on the hyperlinks indicated by this icon:


For this same photo without the arrows, click here


Thymus Lesions eMedicine Ramachandran, T; Raghunathan, U; Patel, D: Kohman, L; Strohl, J; Swarnkar, A.