General considerations

Follows median sternotomy usually for cardiothoracic surgery

Defined as complete separation of the sternum

Incidence has been reported in 4.5% of coronary artery bypass graft (CABG) surgery

While diagnosis is usually made clinically, imaging plays a key role in either initial diagnosis and/or confirmation of the clinical diagnosis

Females are at greater risk than male

Risk factors

Clinical findings

Imaging findings

Originally it was thought that a mid-sternal stripe of lucency seen on frontal chest radiographs was an indicator of sternal dehiscence but this is now felt to be of little diagnostic value

With dehiscence, sternal wires are displaced to one side or the other as they tend to pull through the sternum, rather than break

Sternal wire breaks alone are not an indicator of sternal dehiscence and single breaks are usually of no clinical significance

CT findings of mediastinitis can include small air bubbles or an air-fluid level in a mediastinal collection

Treatment

Wide debridement of devitalized infected soft tissue and bone

Culture-specific antibiotics

Flap closure (e.g., muscle, musculocutaneous, omentum) for best wound healing

Prognosis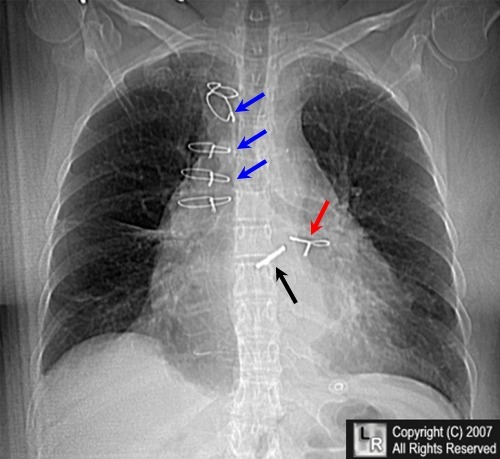 Sternal dehiscence. The blue arrows point to one group of sternal wires that are displaced to the right
of the midline while the red arrow points to a lower wire that has traveled with the left half of the dehisced sternum (see below).
Normally, the sternal wires should align in the midline. The black arrow points to a prosthetic aortic valve.
For the same photo without the arrows, click here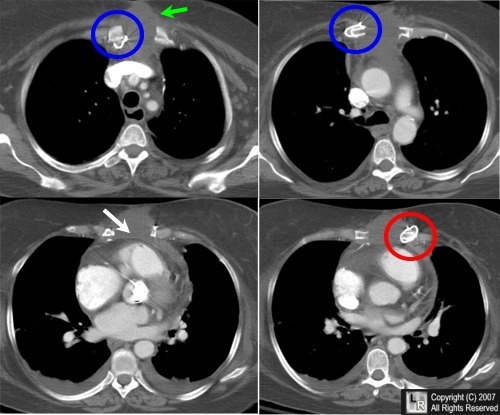 Axial CT images of Sternal Dehiscence. Four axial contrast-enhnaced CT images of the chest are shown,
from highest (top left) to lowest (bottom right). The sternum has separated (white arrow) with some of the wires
attached to the right half (blue circles) and one of the wires attached to the left half (red circle). There is a
fluid collection between the two halves of the sternum (green arrow).