Small Bowel Lymphoma
Submitted by Tony Chang, MD
· Small bowel is second most frequent site of GI tract involvement by lymphoma.
o Ileum is most common site of occurrence
§ Ileum has most lymphoid tissue
o Duodenum is least frequent
· Most cases of small bowel lymphoma are due to non-Hodgkin's lymphoma
· Mesenteric involvement by lymphoma may occur by
o Direct extension from bowel
o Indirectly by displacement due to mass effect
· Risk factors include
o Immunocompromised or immunosuppressed state
o Long-term celiac sprue
o Chronic lymphocytic leukemia
· Mediterranean abdominal lymphoma
o Associated with immuno-proliferative small intestinal disease
o Presents with malabsorption syndrome
o Consists of diffuse lymphomatous infiltration of mucosa and submucosa in long segments of small intestine
o Infection may be important in the development of this type of lymphoma
§ Some are reversible if treated by antibiotics in the very early stages
· Definitive diagnosis is based on histopathological examination from biopsy of the lesion
· Staging:
o 1E: single bowel tumor without nodal involvement
o 2E: GI tumor focus with nodal disease below the diaphragm; nodal disease divided into regional and extraregional
o 3E: GI tumor focus with nodal disease above and below the diaphragm and or serosal involvement +/- other organs involved
o 3ES: Splenic involvement
o 4E: Extralymphatic i.e. bone, liver
· Prognosis
o Poor prognosis is associated with:
§ Stage greater than 2E (nodal disease above and below the diaphragm)
§ Tumor size greater than 10 cm
§ T cell type
§ Immunoblastic histology
§ Presence of aneuploidy
§ Presentation as an acute abdomen
· Primary lymphoma criteria include
o Confinement of disease to a small bowel segment
o Only regional lymphadenopathy
o No hepatic or splenic involvement except by direct tumor extension
o No palpable or mediastinal lymphadenopathy
o Normal peripheral blood smear and bone marrow biopsy
· Patterns of small bowel lymphoma
o Circumferential infiltration of a small bowel segment
§ Results in a variable length of thickening and effacement of folds
§ Widening of the lumen rather than narrowing
· From infiltration of muscularis layer with destruction of the myenteric plexus leading to aneurysmal dilatation, often at the antimesentric segment
o Nodular lesions can be variable in size and irregularly distributed
o Polypoidal lesions are sometimes reported to cause intussusception
o Endoexoenteric lesions can cause fistulas
· Imaging findings
o CT appearance of lymphoma is variable
§ Typical appearances can be classified as aneurysmal, constrictive, nodular, or ulcerative
o Small bowel series can show luminal narrowing of the involved segment with loss of mucosal pattern and thickening of the plica circulares and intraluminal filling defects possibly with dilatation of the involved segment.
o Ultrasound may demonstrate a hypoechoic lesion of the affected bowel and presence of abdominal lymphadenopathy.
o CT scan shows a sausage shaped loop of bowel that is of relatively homogenous tissue density
§ Also asymmetric wall thickening of usually greater than 2cm
§ Aneurysmal dilatation
§ Polypoidal mass
§ Abdominal lymphadenopathy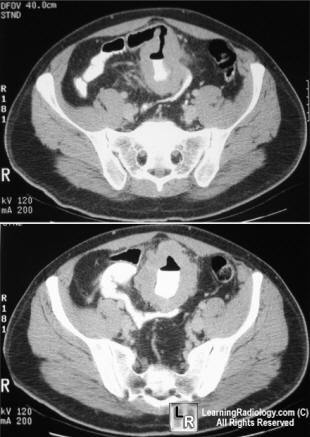 CT scan of the abdomen shows a loop of small bowel in the mid-abdomen with a markedly thickened wall;
lower image shows a large, intraluminal collection of barium representing aneurysmal dilatation of the involved loop
· Differential diagnoses include
o Tuberculosis
o Inflammatory small bowel disease and carcinoma.
· Treatment
o Malignant lymphoma of the small bowel is treated with surgical resection, usually followed by chemotherapy to prevent perforation
o Radiation therapy may also be used